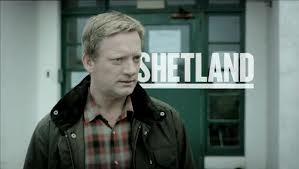 The second series of Shetland premiered on March 11, 2014 and contained 6 episodes. There has been no news yet of a Series 3.
Based on a novel by Ann Cleeves, Shetland follows a detective inspector and his team as they solve murder cases on the Shetland Isles.
Image
Title
Original Airdate
Episode
Raven Black - Part 1
March 11, 2014
03
2.01
DI Jimmy Perez and his team investigate the murder of a teenage girl whose body was found on a secluded beach, and time and again the same name crops up - that of local recluse Magnus Bain, whose home overlooks the crime scene and who had forged an unlikely friendship with the victim. But then the public prosecutor draws attention to the unsolved disappearance of a girl 19 years previously - a case that shares several similarities with this one.
Raven Black - Part 2
March 18, 2014
04
2.02
The discovery of seven-year-old Catriona's body after almost two decades prompts Jimmy Perez to take Magnus in for further questioning. But at the station, the recluse's distress ends in him in attacking the inspector, and he is sent for a psychological evaluation. Ploughing on, Perez re-examines the evidence, but it is only when Catriona's brother reveals she had a secret hiding place at their old home - the same house where Catherine also lived - that he finally sees a glimmer of hope.
Dead Water - Part 1
March 25, 2014
05
2.03
A journalist dies in a suspicious car accident, and when it turns out he was an old friend of Perez, a forensic scientist is called in to ensure an objective view of the case. As the team awaits her results, they look into the reasons for the victim's return to the island, and find he was chasing a lead about plans for a controversial new gas pipeline.
Dead Water - Part 2
April 1, 2014
06
2.04
The discovery of John Henderson's body leads DI Perez to wonder if this second killing is linked to the death of his journalist friend Jerry, a theory given greater weight by forensic investigator Willow Reeves' finds. But then the case takes another surprising turn with the arrival of Jerry's fiancee, carrying a memory stick he gave to her for safekeeping several weeks earlier.
Blue Lightning - Part 1
April 8, 2014
07
2.05
A scientist is found dead in the bird observatory on Fair Isle, Perez's childhood home, so he takes Tosh and makes his way across to the island, where he is greeted by his father - just before flights are grounded by incoming storms. Working alone and without a forensic team, the detectives talk to the victim's friends, family and colleagues - and as tensions run high, the storm forces Perez and the suspects to remain together under a single roof.
Blue Lightning - Part 2
April 15, 2014
08
2.06
Time is running out for Perez and Tosh as their prime suspect lies critically ill in hospital, but it's unclear whether the fire that put him there was a drunken accident or if he was the second victim of Anna's real killer. The DI turns his attention to Finlay Caulfield regarding the photos of Anna on his camera, and while it becomes clear he was obsessed with her, it may not be enough to charge the stalker with her murder. There are still so many unanswered questions - until Sandy spots something on the CCTV footage that takes the investigation in a new direction.